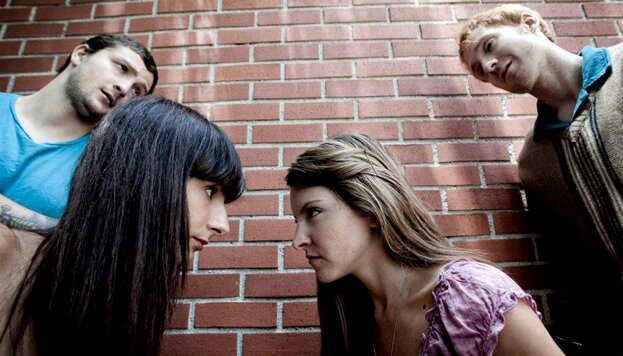 "The title "Spotlight" is an appropriate name for the first production of ambitious Özgür Akerman and Mason Moore, as it demonstrates their artistic sensibilities. For both of them, the work is as much a passion as a job, as it inspires and educates them. Moore counted how they learned the art of producing over the past three intense months, handling all casting, fundraising, designing, and publicity concerns.
Friends Akyıldız, who studies at UCLA, and Moore met in Los Angeles, where they discovered like-minded views. Spotlight seemed a great opportunity to gain producing skills; it consists of a simple one-act set in one location and featuring only four actors. Akyıldız noted their focus was to learn producing, but they also wanted all proceeds to support funding artistic possibilities for underprivileged kids. All profits benefit Helping Kids of Art.
Spotlight tells the story of four college students discovering if their passions are actually talents. Engineering student Brian (Moore) tries to support his actress girlfriend Gail (Ksenia Delaveri) as she vents over whether she will land the coveted part of Maria in West Side Story. As other friends Mickey (Akyıldız) and Karen (Elsa Biedermann) come in, insecurities and resentments arise. Is this Gail's moment in the spotlight before a life of failure looms?
The men played roles that resemble their own personalities; self-effacing Moore portrayed the reserved, kind Brian, while the expressive Akyıldız played the flamboyant acting student Mickey. Akyıldız directed the production, ably using the intimate, claustrophobic set to capture how trapped the students are in their self-absorption. Akyıldız kept the action moving and energetic, added by the fine sound, set, and lighting work by himself and Moore.
Spotlight reveals the drive and determination of Özgür Akyıldız and Mason Moore to voice their creative concerns and benefit the underprivileged at the same time.
Özgür Akyıldız and Mason Moore produced Spotlight at the Sidewalk Studio Theatre at 4150 Riverside Dr. in Burbank on Friday, July 27, and Saturday, July 28, with all proceeds benefiting Helping Kids of Art."